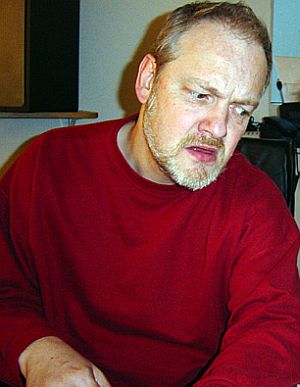 Kai Taschner (b. 1957) is a German voice actor who was heard as Andy Pig in the German dub of Muppets Tonight and Stinky on The Animal Show, plus a rat in Animal Farm, Sacha in Arabian Nights, and Oliver in The English Patient.
Frequently heard in horror movies, Taschner dubbed the telephone voice in the Scream movies, Warwick Davis in the Leprechaun series, and Chuckie in two Child's Play movies. Other movie dub assignments include Tony Shalhoub in Men in Black and its sequel, the Easter Bunny in The Santa Clause 2 & 3, Billy Crystal in Hamlet, Alan Cumming in Titus, and Rob Schneider in 50 First Dates. Animation credits include Gurgle in Finding Nemo, Ned on South Park, Venom on Spider-Man, Scooby-Doo in Looney Tunes: Back in Action, Peter Puppy on Earthworm Jim, Blurr and Ratchet on Transformers, Kif Kroker on Futurama, and Mr. Rogers and others on The Simpsons.
For television, Taschner dubbed Michael Palin on Monty Python's Flying Circus, Rowan Atkinson on Not Necessarily the News, Andy Kaufman on Taxi, Barney The Dinosaur on the self titled "Barney & Friends" and Gilbert Gottfried on Married... with Children. Most recently, he translated the new Doctor Who series into German, serving as voice director and providing the voices of K-9, the Beast in "The Impossible Planet/The Satan Pit," and other supporting characters.
External links