Ad blocker interference detected!
Wikia is a free-to-use site that makes money from advertising. We have a modified experience for viewers using ad blockers

Wikia is not accessible if you've made further modifications. Remove the custom ad blocker rule(s) and the page will load as expected.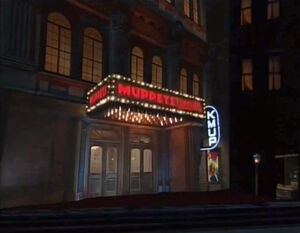 KMUP is the TV network run by the Muppets on Muppets Tonight. The network was owned by Carni-Vore Industries until it was bought by Ernst Stavros Grouper in episode 205.
KMUP has a number of different areas, including a sound stage, control room, dressing rooms, lobby, commissary, basement, and roof. The building has seven floors and a basement that the elevator stops according to episode 110. In episode 206, the studio is located on the third floor.
Locations
Staff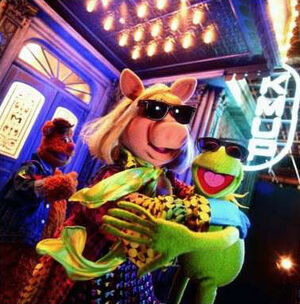 Schedule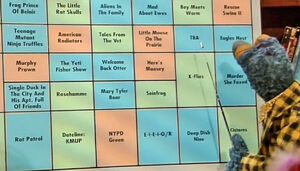 As seen on the first episode, the KMUP schedule is as follows:
Sunday
8:00 America's Furriest Home Videos I
8:30 America's Furriest Home Videos II
9:00 Bay of Pigswatch
10:00 Magnum P.I.G.
Monday
8:00 Frog Prince of Belair
8:30 Teenage Mutant Ninja Truffles
9:00 Murphy Prawn
9:30 Single Duck in the City and His Apt. Full of Friends
10:00 Rat Patrol
Tuesday
8:00 The Little Rat Skulls
8:30 American Radiators
9:00 The Yeti Fisher Show
9:30 Rosehamme
10:00 Dateline: KMUP

Wednesday
8:00 Aliens in the Family
8:30 Tales from the Vet
9:00 Welcome Back Otter
9:30 Mary Tyler Boar
10:00 NYPD Green
Thursday
8:00 Mad About Ewes
8:30 Little Mouse On the Prairie
9:00 Here's Moosey
9:30 Seinfrog
10:00 EIEIO-R

Friday
8:00 Boy Meets Worm
8:30 TBA (becomes Muppets Tonight)
9:00 X-Flies
10:00 Deep Dish Nine
Saturday
8:00 Rescue Swine 11
8:30 Eagle's Nest
9:00 Murder She Faxed
10:00 Cisterns

See also