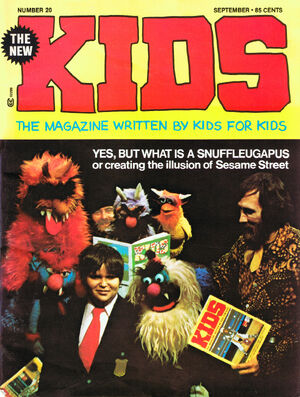 KIDS was a magazine from the 1970s, made for kids by kids. Issue 20 included a behind-the-scenes article on Sesame Street, titled "Yes, but what is a Snuffleugapus (sic) or creating the illusion of Sesame Street". The article includes some behind-the-scenes photos, including some from an Ernie and Bert sketch and of the performers performing monsters, as well as some drawings of characters, including Big Bird (showing how he is performed), Sam the Robot, and Mr. Snuffleupagus.
See also
Ad blocker interference detected!
Wikia is a free-to-use site that makes money from advertising. We have a modified experience for viewers using ad blockers

Wikia is not accessible if you've made further modifications. Remove the custom ad blocker rule(s) and the page will load as expected.