Ad blocker interference detected!
Wikia is a free-to-use site that makes money from advertising. We have a modified experience for viewers using ad blockers

Wikia is not accessible if you've made further modifications. Remove the custom ad blocker rule(s) and the page will load as expected.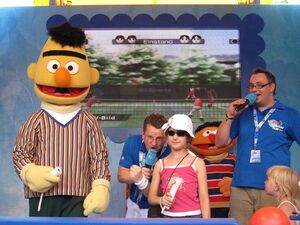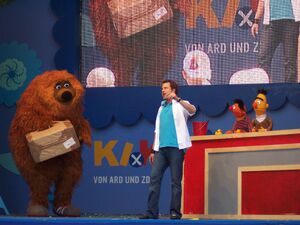 KI.KA Sommer Tour began in 2004 and is now an annual summer event, arranged by the German children's channel KI.KA (Kinder Kanal). The tour visits a handful of German cites during the summer where children can see a scripted stage show and meet the characters they know from TV.
Among the many characters that have appeared are Sesamstrasse's Samson and Rumpel, as well as walk-around versions of Ernie and Bert. Occasionally when in Hamburg (the Sesamstrasse studio's location), the original Ernie and Bert puppets have been used for the stage show, performed by their German performers. Parts of the tour were broadcast on tour sponsor TV channel KI.KA.
The idea to the tour arose, when Sesamstrasse celebrated its 30th anniversary with a huge, public birthday party in Düsseldorf on June 15, 2003. Among the participants were Samson, Rumpel and host Nils Julius.
Known tour dates
2003
June 15, 2003: Düsseldorf, Hauptbahnhof (30th anniversary party)
2007
July, 8: Erfurt, Altstadt & Bahnhofsvorplatz
July, 15: Darmstadt, Hauptbahnhof
July, 22: Hannover, Neues Rathaus
July, 29: Cologne, Roncalliplatz
August, 5: Hamburg, Bahnhof Dammtor
August, 12: Bremen, Hauptbahnhof
August, 19: Halle/Saale, Hauptbahnhof
August, 26: Munich, Olympiapark
September, 2: Berlin, Hauptbahnhof
September, 9: Karlsruhe, Hauptbahnhof
2010
July, 18: Halle/Saale, Hauptbahnhof
July, 25: Hannover, Hauptbahnhof
August, 1: Düsseldorf, Flughafen
August, 8: Bad Reichenhall, Axelmannstein Resort
August, 15: Berlin, Ostbahnhof
August, 22: Wiesbaden, Hauptbahnhof
August, 29: Hamburg, Bahnhof Dammtor
September, 5: Erfurt, Landesfunkhaus/ega
External links