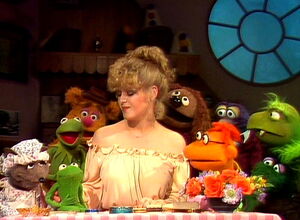 "Just One Person" is a song that has been performed in many Muppet productions. The lyrics talk about how if only one person is there for you and believes in you, pretty soon other people will start to do the same. And before you know it, you'll believe in yourself, too.
Most every version of the song performed by the Muppets abridges the end of the first verse.
Performances
Bernadette Peters and a group of Muppets, including Kermit the Frog, Fozzie Bear, Scooter, Rowlf the Dog, Gonzo, Miss Mousey, a Green Frackle, andDroop, to Robin the Frog in episode 212 of The Muppet Show
Leslie Uggams, Bob, David and Maria in A Special Sesame Street Christmas *
Bernadette Peters and the Muppets on The Tonight Show in 1979
Pam Arciero with Grundgetta, Camille Bonora with Meryl Sheep, Fran Brill with Prairie Dawn, Kevin Clash with Elmo, Dave Goelz with Gonzo, Louise Gold with Annie Sue, Richard Hunt with Scooter, Kathryn Mullen with Mokey Fraggle, Jerry Nelson with Gobo Fraggle, Frank Oz with Fozzie Bear, Karen Prell with Red Fraggle, Mike Quinn with a generic penguin, Martin P. Robinson with Telly Monster, David Rudman with Boo Monster, Caroll Spinney with Oscar the Grouch and Steve Whitmire with Wembley Fraggle at Jim Henson's Memorial
The finale of The Muppets Celebrate Jim Henson as sung by Robin, Scooter, Bean Bunny, Gonzo, Fozzie Bear, and joined in Miss Piggy, Clifford, Prairie Dawn, Mokey Fraggle, Janice, Floyd Pepper, Elmo, Zoot, Animal, Rizzo the Rat, Beauregard, Big Bird, Ernie, Bert, Telly Monster, Grundgetta, Rowlf, Dr. Bunsen Honeydew, Beaker, Sam the Eagle, Lew Zealand, Gobo Fraggle, Wembley Fraggle, Camilla the Chicken, Statler and Waldorf
Elmo on The Best of Elmo *
Prairie Dawn with the cast of the Sesame Street Live show When I Grow Up *
Lillias White, Hoots the Owl, Oscar the Grouch (Caroll Spinney), Zoe (Fran Brill), Cookie Monster, Elmo (Kevin Clash), Ernie, Bert, Grover (Eric Jacobson), Rosita (Carmen Osbahr), and Kami at the 2006 Annual Sesame Workshop Benefit Gala.
Kermit the Frog, Fozzie Bear, Gonzo, Pepe the King Prawn and Floyd Pepper performed the song for the Morris family on Extreme Makeover: Home Edition in January 2010.
John Tartaglia, Fozzie Bear, Kermit the Frog, Gonzo, Scooter, Rowlf the Dog, Dr. Teeth, Floyd Pepper, Janice, Zoot, Dr. Bunsen Honeydew, Beaker, and Beauregard performed the song at Jim Henson's Musical World on April 14, 2012.
The Sheriff, Abby Cadabby, Ernie, Bert, Elmo, Cookie Monster, Big Bird, Murray, Rosita, Telly, Grover, Prairie Dawn and Hoots performed the song from Sesame Street Live Can't Stop Singing
* -- full version is performed.
Releases
Audio
Video