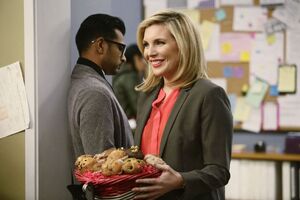 June Diane Raphael (b. 1980) is an American actress, comedian, and screenwriter best known for starring in comedy programs such as Burning Love, Adult Swim's NTSF:SD:SUV::, and the Netflix series Grace and Frankie (with Jane Fonda and Lily Tomlin). Notable film work includes supporting roles in Year One and Unfinished Business, as well as her 2013 Sundance film Ass Backwards, which she co-wrote and starred in with her creative partner Casey Wilson.
She is featured on The Muppets as network president Lucy Royce.
Ad blocker interference detected!
Wikia is a free-to-use site that makes money from advertising. We have a modified experience for viewers using ad blockers

Wikia is not accessible if you've made further modifications. Remove the custom ad blocker rule(s) and the page will load as expected.