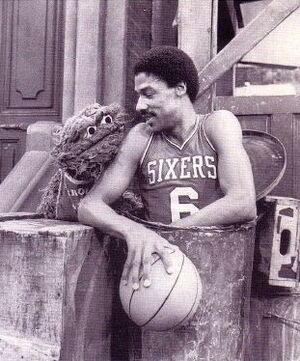 Julius Erving (b. 1950) was a basketball player known by his nickname "Dr. J". Erving played for the New Jersey Nets and the Philadelphia 76ers, and won three championships and four Most Valuable Player awards.
Erving guest starred on Sesame Street in 1982, appearing with Oscar the Grouch on the street. He also helped a little girl to slam dunk in an insert (EKA: Episode 2341).
Erving also appeared in a commercial for the NBA Finals in June 2005 with Kermit the Frog and Miss Piggy.
Ad blocker interference detected!
Wikia is a free-to-use site that makes money from advertising. We have a modified experience for viewers using ad blockers

Wikia is not accessible if you've made further modifications. Remove the custom ad blocker rule(s) and the page will load as expected.