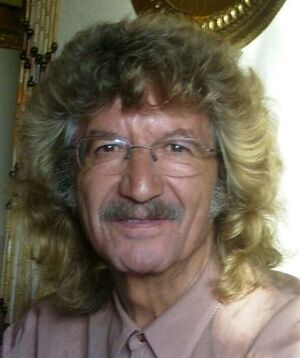 Julio Sanchidrián (d. 2015) was a Spanish voice actor who dubbed Waldorf into Castilian in most Muppet projects from Los Teleñecos en Cuentos de Navidad (The Muppet Christmas Carol) through El tour de los Muppets (Muppets Most Wanted). He also dubbed Mr. Pulman on Dinosaurios.
Sanchidrián dubbed Jonathan Banks on Breaking Bad and Better Call Saul, Tommy Chong on That '70s Show, Wayne Knight on Seinfeld, Vic Polizos on Boston Legal, John Hawkes in Home Fries, Vincent Price in The Trouble with Girls, Harry Dean Stanton in The Big Bounce, and Geoffrey Bayldon in A Dandy in Aspic.
In animation, he dubbed Otto, Grandpa Simpson, and Roger Meyers Jr. on The Simpsons, Herbert the Pervert on Family Guy, Grandpa Marsh on South Park, Mr. Litvack in Wreck-It Ralph, and Snively on Sonic the Hedgehog. Video game roles included the Mouth of Sauron in The Lord of the Rings games, Fenrir Greyback in Harry Potter and the Half-Blood Prince, and Metallo in DC Universe Online.