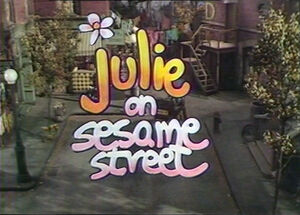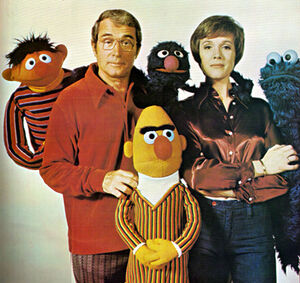 Julie on Sesame Street was one of a series of Julie Andrews TV specials, produced by ATV and distributed by ITC.
Using the alleys and stoops of the Sesame Street neighborhood as the venue for this television special, Julie Andrews and Perry Como join forces with the Sesame Street Muppets for an hour of music and antics.
Highlights include the following:
Julie sings "This Way to Sesame Street" with a high-stepping chorus line of trash cans.
Julie and the dancers do a routine to demonstrate the number 10, in the style of many live-action inserts on the show.
Perry Como sings "And I Love You So."
Broadcast Dates
Gallery
Note
The special was filmed at Elstree Studios in United Kingdom, which meant a new street set was built; there are subtle but noticeable differences between it and the original American set.
Muppet Characters
Oscar the Grouch, Big Bird, Kermit the Frog, Ernie, Bert, Cookie Monster, Grover, Biff, Mr. Snuffleupagus, Frazzle, Anything Muppet Woman, Grouches (as trashcan dancers)
Credits
See also