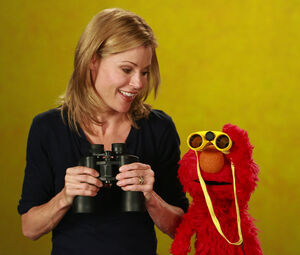 Julie Bowen (b. 1970) is an actress best known for her role as Claire Dunphy on Modern Family (with Ed O'Neill and Ty Burrell). She was a regular on Boston Legal and has had recurring roles on ER, Lost and Ed, as well as appearances on Party of Five, Law and Order: Special Victims Unit, and Monk.
For Sesame Street's 41st season, Bowen presented "binoculars" as the Word of the Day with Elmo.
In 2015, Bowen appeared in an Audi commercial with Kermit the Frog and Miss Piggy.
External links
Ad blocker interference detected!
Wikia is a free-to-use site that makes money from advertising. We have a modified experience for viewers using ad blockers

Wikia is not accessible if you've made further modifications. Remove the custom ad blocker rule(s) and the page will load as expected.