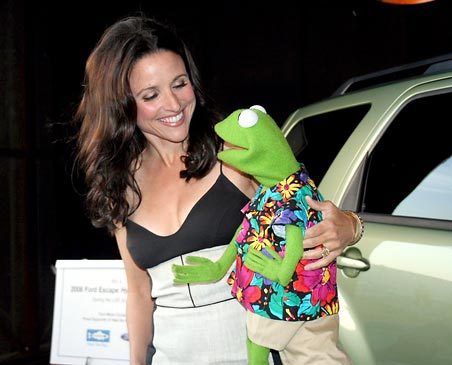 Julia Louis-Dreyfus (b. 1961) is a comic actress best known for her Emmy Award-winning roles as Elaine Benes on Seinfeld and Christine Campbell in The New Adventures of Old Christine.
She appeared in 1994 on Sesame Street's All-Star 25th Birthday as reporter Kathie Lee Kathie (a spoof of Kathie Lee Gifford) and voiced Heather on Dinosaurs. In amateur filmed footage from behind the scenes of the special, Dreyfus blurted out the s-word, causing Elmo to call "five dollars!", in reference to a swear jar. (YouTube)
Her Seinfeld character was also spoofed as Baby Elaine in the "Seinfeld Babies" sketch on Muppets Tonight.
External links
Ad blocker interference detected!
Wikia is a free-to-use site that makes money from advertising. We have a modified experience for viewers using ad blockers

Wikia is not accessible if you've made further modifications. Remove the custom ad blocker rule(s) and the page will load as expected.