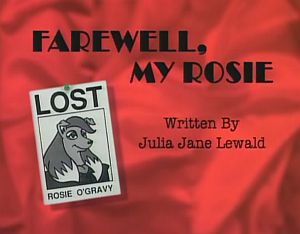 Julia Lewald (sometimes credited as Julia Jane Lewald and Julia J. Roberts) is a television writer, focusing on animation and children's series. She scripted the second season Dog City episode "Farewell, My Rosie."
Lewald wrote for the Disney series Chip 'n' Dale Rescue Rangers, The New Adventures of Winnie the Pooh, TaleSpin, Darkwing Duck, Goof Troop, Gargoyles: The Goliath Chronicles, and Buzz Lightyear of Star Command.
Lewald was both writer and story editor for superhero or action series like RoboCop: Alpha Commando, Streetfighter: The Animated Series, and Avengers. She wrote episodes of Strawberry Shortcake, Krypto the Superdog, Men in Black: The Series, the 2003 version of Teenage Mutant Ninja Turtles, CatDog, and the live-action Young Hercules.
External links
Ad blocker interference detected!
Wikia is a free-to-use site that makes money from advertising. We have a modified experience for viewers using ad blockers

Wikia is not accessible if you've made further modifications. Remove the custom ad blocker rule(s) and the page will load as expected.