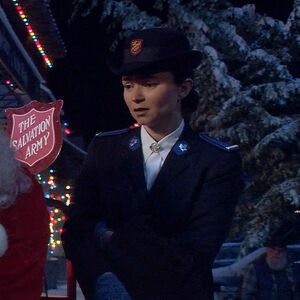 Julia Arkos (b. 1970) is a Canadian actor who graduated from the University of Winnipeg in 1992 with a Bachelor's Degree in Theatre and Drama.
She appeared in It's a Very Merry Muppet Christmas Movie as the Salvation Army Representative encountered by Fozzie Bear while trying to escape a Safari Animal Tracker.
Her other credits include two episode of The X-Files, James Cameron's Dark Angel (with Jessica Alba), three episodes of Dead Like Me (with Mandy Patinkin), Heaven is for Real (with Greg Kinnear), and The Last Mimzy (with Joely Richardson).
External links
Ad blocker interference detected!
Wikia is a free-to-use site that makes money from advertising. We have a modified experience for viewers using ad blockers

Wikia is not accessible if you've made further modifications. Remove the custom ad blocker rule(s) and the page will load as expected.