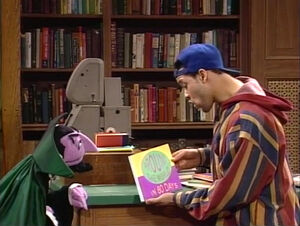 Jules Verne (1828-1905) was a French novelist best known for his adventure stories, usually incorporating exploration, technology, and science themes and contributing significantly to the development of science-fiction. His books, while sometimes delving into pure fantasy, anticipated such actual advances as the submarine, moon exploration, compressed global travel, and light-propelled space vessels.
Some of his best known books include Around the World in 80 Days (1873), Twenty Thousand Leagues Under the Sea (1870), From the Earth to the Moon (1865), and Journey to the Center of the Earth (1864). Most of his books have been adapted multiple times to other media, including film, television, and of course, the Muppets. The 2004 film version of Around the World in 80 Days included digital effects by Jim Henson's Creature Shop.
References
Connections
Ad blocker interference detected!
Wikia is a free-to-use site that makes money from advertising. We have a modified experience for viewers using ad blockers

Wikia is not accessible if you've made further modifications. Remove the custom ad blocker rule(s) and the page will load as expected.