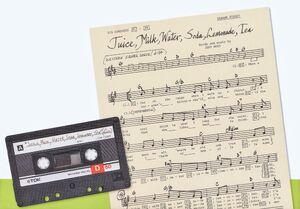 "Juice, Milk, Water, Soda, Lemonade, Tea" is an unfinished Sesame Street song written by Jeff Moss in 1990.[1] For unknown reasons, the song never made it to air.[2]
The song would be performed by six cowpokes in the style of a Western square dance, as they sing about their preferred drink after retuning from the thirst-inducing, dusty trail.[2]
Sources
↑

Copyright.gov Work Registration #PAu001449039
Ad blocker interference detected!
Wikia is a free-to-use site that makes money from advertising. We have a modified experience for viewers using ad blockers

Wikia is not accessible if you've made further modifications. Remove the custom ad blocker rule(s) and the page will load as expected.