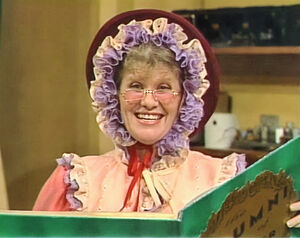 Judith Ivey (b. 1951) is an actress best known for her roles on Designing Women, Will & Grace, and The Critic.
Ivey guest starred as Mother Goose in a 1993 episode of Sesame Street.
On Broadway, Ivey has won two Tony Awards for Steaming and Hurlyburly. Other Broadway credits include Stephen Sondheim's Follies and Noël Coward's Blithe Spirit, plus TV guest appearances on Frasier and Law & Order: Special Victims Unit.
External links
Ad blocker interference detected!
Wikia is a free-to-use site that makes money from advertising. We have a modified experience for viewers using ad blockers

Wikia is not accessible if you've made further modifications. Remove the custom ad blocker rule(s) and the page will load as expected.