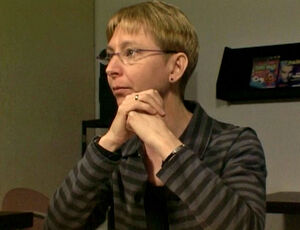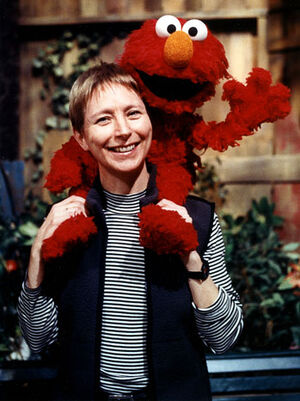 Judy Freudberg (1949 - June 10, 2012) started her career with Sesame Street in Season 3 as a script typist, and became a writer by Season 7. In 1985, she co-wrote the first Sesame Street theatrical feature, Follow That Bird, with Tony Geiss. She co-created the Elmo's World segment and served as its head writer.
Celebrities for whom she wrote sketches on Sesame Street include Whoopi Goldberg, Lily Tomlin, Bill Irwin, B.B. King, Jodie Foster, Ellen DeGeneres, Maya Angelou, Michael Jeter, Shari Lewis, Gregory Hines and Susan Sarandon.[1]
Freudberg graduated from Syracuse University in 1971 with a bachelor's degree in speech and dramatic arts.[2] Her other credits, often co-writing with Geiss, include the animated feature films The Land Before Time and An American Tail for Steven Spielberg, and The Upside Down Show for Nickelodeon.
Credits
Writer
Books
Songs
Sources
↑ "Judy Freudberg, Writer on 'Sesame Street' for Nearly Four Decades, Dies at 63" by Mike Barnes, The Hollywood Reporter 6/13/20
↑ Syracuse Alumni Journal Fall 2008
External links
Ad blocker interference detected!
Wikia is a free-to-use site that makes money from advertising. We have a modified experience for viewers using ad blockers

Wikia is not accessible if you've made further modifications. Remove the custom ad blocker rule(s) and the page will load as expected.