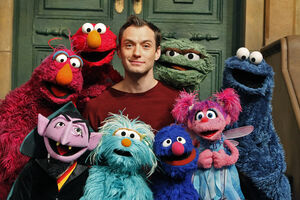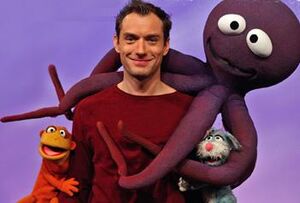 Jude Law (b. 1972) is an English actor, who was nominated for an Academy Award for his role in Anthony Minghella's The Talented Mr. Ripley.
In the 41st season of Sesame Street, Law presented the word "cling" as the Word of the Day with some Muppet animals. The segment featured Leslie Carrara performing a mouse, and Carmen Osbahr puppeteering one of the tentacles of the octopus. (YouTube) The two rewrote the script, to include themselves as performers, so they could help demonstrate the word.[1]
Sources
External links
Ad blocker interference detected!
Wikia is a free-to-use site that makes money from advertising. We have a modified experience for viewers using ad blockers

Wikia is not accessible if you've made further modifications. Remove the custom ad blocker rule(s) and the page will load as expected.