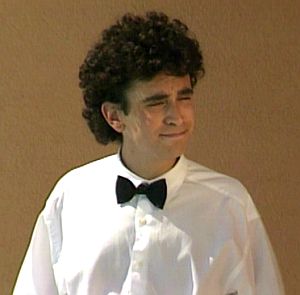 Joshua Rifkind (b. 1965) is an actor who appeared in the 1990 installments of Shalom Sesame, playing a hotel waiter in a skit with Tracey Gold in "Journey to Secret Places." He also voiced a potter in a stop-motion animated "Here Is Your Life" segment in the "Chanukah" episode.
Around the time of his Shalom guest spots, Rifkind starred on the short-lived ABC sitcom The Marshall Chronicles as an intellectual high school student, Marshall Brightman, who broke the fourth wall to narrate the episodes. Other TV work included guest spots on Roseanne, Married... with Children, The Young Indiana Jones Chronicles, and a recurring guest role on Beverly Hills, 90210 (as Josh Richland). He later changed his professional name to Joshua Beckett, starring in and directing the 1996 film Always Say Goodbye.
External links
Ad blocker interference detected!
Wikia is a free-to-use site that makes money from advertising. We have a modified experience for viewers using ad blockers

Wikia is not accessible if you've made further modifications. Remove the custom ad blocker rule(s) and the page will load as expected.