Ad blocker interference detected!
Wikia is a free-to-use site that makes money from advertising. We have a modified experience for viewers using ad blockers

Wikia is not accessible if you've made further modifications. Remove the custom ad blocker rule(s) and the page will load as expected.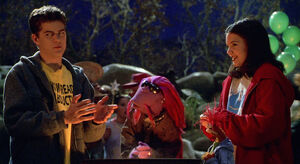 Joshua Jackson (b. 1978) is an actor best known as Pacey in the TV series Dawson's Creek with James van der Beek, and the FOX sci-fi series, Fringe.
In 1999, he and co-star Katie Holmes made a cameo appearance as their Dawson's Creek characters, Pacey and Joey, in Muppets from Space.
On November 4, 2009, he appeared on Jimmy Kimmel Live and talked about meeting the Muppets ten years previous. He stayed on set for Big Bird's appearance and interacted with him a bit. When the 6-year-old revealed he'd heard Jackson provide a description of a gory scene shot for Fringe in the previous segment, Jackson gave an apologetic look. (His character had a reference to Big Bird in the show's first season.)
External links