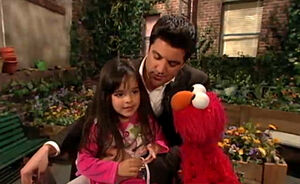 Josh Elliott has been a news anchor on Good Morning America since 2011. He also hosted the summer series Good Afternoon America in 2012. Previously, he co-anchored ESPN's SportCenter.
In a GMA preview of the Elmo the Musical segment "Athlete the Musical," Elliott briefly appears, but is replaced by Enormous Athlete. On Good Morning America in 2012, Elliott and his daughter toured the set, meeting Elmo, Murray, Big Bird, Maria, Abby, and the letter J.
Ad blocker interference detected!
Wikia is a free-to-use site that makes money from advertising. We have a modified experience for viewers using ad blockers

Wikia is not accessible if you've made further modifications. Remove the custom ad blocker rule(s) and the page will load as expected.