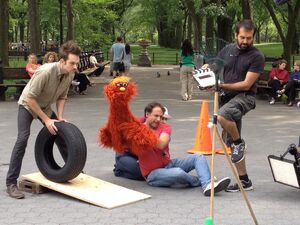 Joseph Herscher is an artist who specializes in comedic kinetic art pieces, and Rube Goldberg devices.
He appears in a 2013 episode of Sesame Street during Murray Monster's "People in Your Neighborhood" segment. He demonstrates how kinetic art works and builds a Rube Goldberg machine to water plants.
Herscher has exhibited at the Venice Biennial, and was invited because of his video "The Page Turner". He told the Herald newspaper that he has plans to create his own kinetic-centric kids show.
External links
Ad blocker interference detected!
Wikia is a free-to-use site that makes money from advertising. We have a modified experience for viewers using ad blockers

Wikia is not accessible if you've made further modifications. Remove the custom ad blocker rule(s) and the page will load as expected.