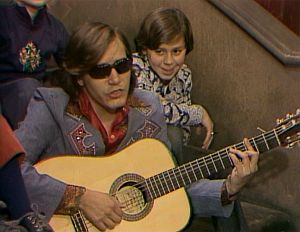 José Feliciano (b. 1945) is a Puerto Rican singer and guitarist.
In 1974, on Sesame Street's first bilingual album ¡Sesame Mucho! Feliciano sang two numbers: "Puerto Rico" and a rock version of "Bein' Green".
Feliciano also appeared on the show in 1975, singing "A World Without Music" in episode 0763. The song was released on the 1979 album The Stars Come Out on Sesame Street.
During Season 6 he also sang "El Arroz con Leche" to the Kids. The clip is available as a Season 6 "Classic Cut" on the Old School: Vol. 2 DVD set.
Feliciano also sang "The Gypsy" in a 1977 episode.
His hit single, "Feliz Navidad" was featured in a scene with Big Bird and a little girl at a skating rink on "Christmas Eve on Sesame Street".
Ad blocker interference detected!
Wikia is a free-to-use site that makes money from advertising. We have a modified experience for viewers using ad blockers

Wikia is not accessible if you've made further modifications. Remove the custom ad blocker rule(s) and the page will load as expected.