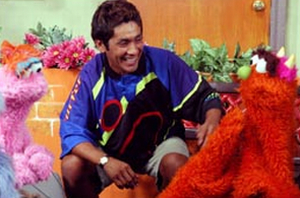 Jorge Campos (b. 1966) is a Mexican soccer player. In 2005, he made multiple guest appearances on Plaza Sésamo. As part of an ongoing "Plaza Sésamo" storyline, Campos assisted the plaza's residents in planning a soccer tournament and offered advice on exercise and healthy eating habits. The segments were compiled for a 2006 DVD release.
Ad blocker interference detected!
Wikia is a free-to-use site that makes money from advertising. We have a modified experience for viewers using ad blockers

Wikia is not accessible if you've made further modifications. Remove the custom ad blocker rule(s) and the page will load as expected.