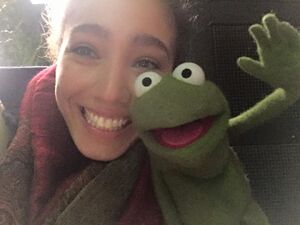 Jordan Reddout is a writer for The Muppets, co-writing the episode "Going, Going, Gonzo" and "Little Green Lie."
Reddout graduated from Harvard in 2010, with a BA in Music and Anthropology, during which period she began performing in college musicals. She went on to USC for her masters' degree in film and television production. She worked on the production staff of Army Wives and has worked on several short films (including Guess Who? The Soldier for PBS, which she wrote, directed, and produced).
Writing credits
External links
Ad blocker interference detected!
Wikia is a free-to-use site that makes money from advertising. We have a modified experience for viewers using ad blockers

Wikia is not accessible if you've made further modifications. Remove the custom ad blocker rule(s) and the page will load as expected.