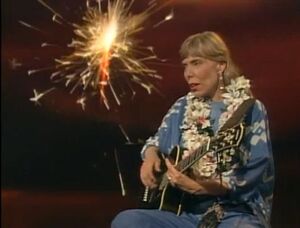 Joni Mitchell (b. 1943) is a Canadian singer and songwriter. She achieved fame in the late 1960s and was considered a key part of the Southern California folk rock scene. Her best-known song is the 1969 single "Chelsea Morning," which was also covered by Judy Collins and Neil Diamond.
Mitchell appeared on the Ghost of Faffner Hall episode "Delighting in Sounds," in which it's revealed that she once dated the Wild Impresario.
References
External links
Ad blocker interference detected!
Wikia is a free-to-use site that makes money from advertising. We have a modified experience for viewers using ad blockers

Wikia is not accessible if you've made further modifications. Remove the custom ad blocker rule(s) and the page will load as expected.