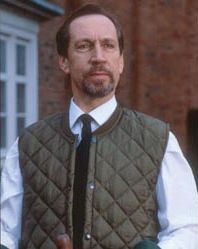 Jonathan Hyde (b. 1947) is an Australian-born actor who played Dussan the butler in Jack and the Beanstalk: The Real Story. A veteran of The Royal Shakespeare Company, Hyde established himself in episodic television in the 1970s, and transitioned to principal supporting roles in films.
Film credits include Deadly Advice (with Jane Horrocks, Billie Whitelaw, Imelda Staunton, and others), Richie Rich (as butler Cadbury), Jumanji (in a dual role), Anaconda, Titanic (as shipping magnate Bruce Ismay), The Mummy, and The Tailor of Panama. On television, he played Mayor Waldo in the series Dinotopia and guest starred on Cadfael, Lovejoy, and Peak Practice.
Ad blocker interference detected!
Wikia is a free-to-use site that makes money from advertising. We have a modified experience for viewers using ad blockers

Wikia is not accessible if you've made further modifications. Remove the custom ad blocker rule(s) and the page will load as expected.