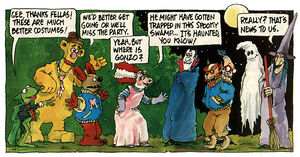 Jon McIntosh is an artist, designer and illustrator who worked on several Sesame Street books and on "Muppet Magazine". His non-Muppet credits are many and include illustrations for NASA and two syndicated comic strips. He currently runs his own company, McIntosh Ink, Inc.
Credits
External links
Ad blocker interference detected!
Wikia is a free-to-use site that makes money from advertising. We have a modified experience for viewers using ad blockers

Wikia is not accessible if you've made further modifications. Remove the custom ad blocker rule(s) and the page will load as expected.