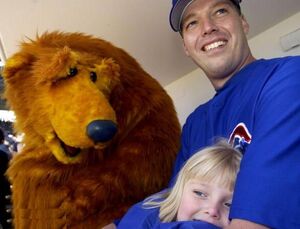 Jon Lieber (b. 1970) is a former Major League Baseball pitcher. Lieber has played for the Chicago Cubs, New York Yankees, Pittsburgh Pirates and Philadelphia Phillies.
While with the Cubs, Lieber and his children spent time with Bear from Bear in the Big Blue House before a game against the Los Angeles Dodgers on April 26, 2002.
Ad blocker interference detected!
Wikia is a free-to-use site that makes money from advertising. We have a modified experience for viewers using ad blockers

Wikia is not accessible if you've made further modifications. Remove the custom ad blocker rule(s) and the page will load as expected.