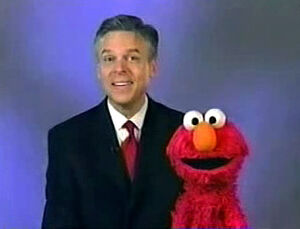 Jon Huntsman, Jr. (b. 1960) is an American politician and diplomat. He currently serves as the United States Ambassador to China, until his resignation comes into effect later in 2011.
From 2005 until 2009 Huntsman served as the 16th Governor of Utah. During his tenure throughout 2006, he was featured on the state's local PBS commercials, promoting the Healthy Habits for Life initiative alongside Elmo.
On November 19, 2011, Huntsman, now a candidate for the 2012 Republican presidential nomination, appeared on an episode of Saturday Night Live that was hosted by Jason Segel, and featured guest appearances by the Muppets to promote their new feature film.