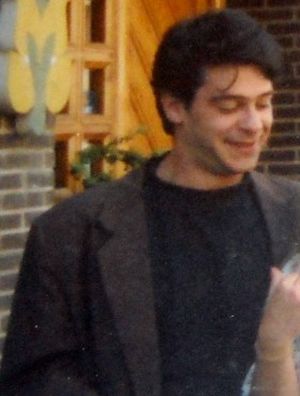 Jon Crespo (ca. 1968-2001) was a Spanish voice actor who dubbed Bear (Oso) on El Oso de la Casa Azul (the Castilian dub of Bear in the Big Blue House). He also dubbed the TV producer in Muppets from Space and Mordred in the Creature Shop-effects film Merlin.
Crespo entered dubbing in 1987 from a stage background, and early notable assignments included Jack Lemmon in Days of Wine and Roses and Nigel Planer on the BBC sitcom The Young Ones. He dubbed Henry Winkler on Happy Days, Matthew Modine in Gross Anatomy, Stephen Caffrey and other younger actors in the Columbo TV movies, and David Boreanaz on Buffy the Vampire Slayer.
Animation roles included Z in Antz, Slim in A Bug's Life, Jor-El and others on Superman, Johnny Storm on Spider-Man, and many roles in the Knights of the Zodiac anime.
External links