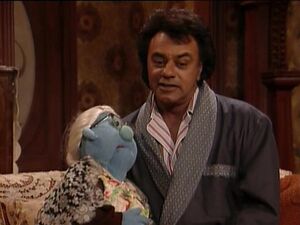 Johnny Mathis (b. 1935) is a pop singer whose hits include "Chances Are" (#1 in 1957), "Misty," "When Sunny Gets Blue," "Wonderful, Wonderful," "Maria" and "I'm Coming Home." In 1978, he and Deniece Williams scored a #1 pop and R&B duet with "Too Much, Too Little, Too Late."
Mathis performed "Never Before, Never Again" with Rowlf the Dog on the 1979 TV special The Muppets Go Hollywood. He performed two Christmas songs on the 1992 special Holiday Greetings from The Ed Sullivan Show, which also featured the Muppets, and made a special cameo appearance in Muppets Tonight Episode 212.
More than 60 of Mathis' albums have been certified gold and/or platinum. "Johnny's Greatest Hits" (1958) remained on Billboard's pop album charts for 490 weeks. "Heavenly" (1959) remained on the pop charts for 295 weeks. His first Christmas album, titled "Merry Christmas" (1958), is a perennial bestseller. He received a Lifetime Achievement Grammy Award in 2003.
External links
Ad blocker interference detected!
Wikia is a free-to-use site that makes money from advertising. We have a modified experience for viewers using ad blockers

Wikia is not accessible if you've made further modifications. Remove the custom ad blocker rule(s) and the page will load as expected.