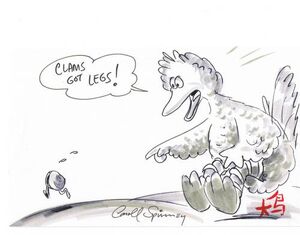 Johnny Hart (1931-2007) was a cartoonist who wrote and drew B. C. and scripted The Wizard of Id (with Brant Parker). In 1969, the latter strip was adapted for an unaired short pilot.
A running gag in B. C involved the presence of a walking clam, often leading to the phrase "Clam's got legs!" In 2008, as part of the Caroll Spinney Artworks collection, a Caroll Spinney drawing used the gag.
Ad blocker interference detected!
Wikia is a free-to-use site that makes money from advertising. We have a modified experience for viewers using ad blockers

Wikia is not accessible if you've made further modifications. Remove the custom ad blocker rule(s) and the page will load as expected.