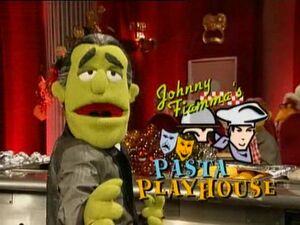 Johnny Fiama's Pasta Playhouse is a dinner theater establishment owned and operated by Johnny Fiama. It is shown to be a sponsor of Muppets Tonight, where an advertisement plays in episode 208.
The establishment is primarily a theater, which boasts a pasta buffet behind the seats, as well as waiter service by Sal Minella. The service proves to be slightly detrimental, as the hot plates scorch customers as they pass it along the aisle. Sal's lack of sanitary handling also allows for some of his hair to slip into the dishes. Among the shows performing their run is The Odd Couple, starring Dr. Phil van Neuter and Mulch.
The advertisement (and presumably restaurant) meets an untimely end when a grease fire breaks out in the kitchen.
Ad blocker interference detected!
Wikia is a free-to-use site that makes money from advertising. We have a modified experience for viewers using ad blockers

Wikia is not accessible if you've made further modifications. Remove the custom ad blocker rule(s) and the page will load as expected.