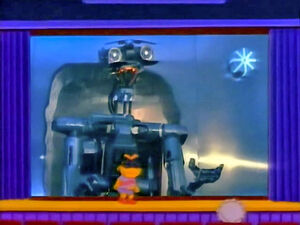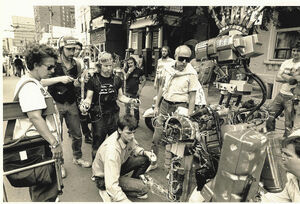 Johnny 5 is a robot from the 1986 film Short Circuit (with Ally Sheedy and Austin Pendleton) and its 1988 sequel, Short Circuit 2 (with Michael McKean). Johnny 5 was originally made for military use, but comes to life in a lightning-induced power surge, ultimately rejecting its destructive programming in favor of a peaceful life.
In the 1990 Muppet Babies episode "At the Movies", Baby Scooter has a conversation with Johnny 5, featuring footage from Short Circuit 2. Puppeteer Tim Blaney voiced the character in the Short Circuit films.
In addition to Blaney, puppeteers for Short Circuit 2 included Henson veterans Rob Mills, Gord Robertson, and Trish Leeper.
External links