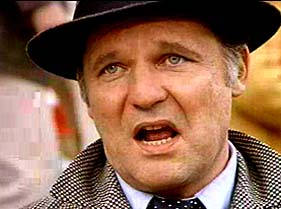 John Vernon (1932-2005) was a Canadian-born actor with a silky voice and authoritarian manner, best remembered for playing Dean Wormer in National Lampoon's Animal House. He also starred in such films as Point Blank, Dirty Harry, and Alfred Hitchcock's Topaz.
In later years, Vernon became active as a voice performer, guest starring in the Dinosaurs episode "Power Erupts" as Mr. Ashland. Other voice roles include mob boss Rupert Thorne on Batman: The Animated Series and Dean Toadblatt on The Grim Adventures of Billy and Mandy.
External links
Ad blocker interference detected!
Wikia is a free-to-use site that makes money from advertising. We have a modified experience for viewers using ad blockers

Wikia is not accessible if you've made further modifications. Remove the custom ad blocker rule(s) and the page will load as expected.