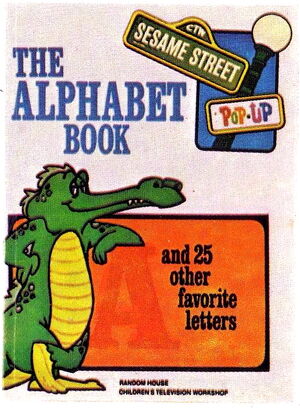 John Strejan (1933-2003) was the illustrator for the Sesame Street pop-up books The Alphabet Book (1971) and What Happens Next? (1972). Neiher feature actual Sesame Street characters (Muppet or otherwise) but tie in to the concepts and approach used on the show.
Strejan is best known for his work on pop-up books, usually as a paper engineer. He began as a graphic artist in advertising and as art director for Teen magazine before moving to children's books in the late 1960s. He did pop-ups of books by Eric Carle, of Goodnight Moon (as The Goodnight Moon Room) and Brian Froud's Faeries, and of paintings by Maxwell Parrish and M. C. Escher. He also did pop-up design or engineering for Spider-Man, The Incredible Hulk, Snoopy, Bible stories, fairy tales, Peter and the Wolf, The Wizard of Oz, and Alice in Wonderland (including one version utilizing the original John Tenniell illustrations).
Strejan worked on many of the more elaborate pop-up projects of Ron van der Meer (including Monster Island and Early Ships), a series of animal pop-ups for National Geographic, and a 1993 Snow White and the Seven Dwarfs press-out playset for Disney. Outside of pop-ups, he illustrated a series of fairy tale book and record sets for Tele-Story in the 1970s. One of his later projects was paper engineering vehicle punchout books for 'Star Wars, Episode I: The Phantom Menace.
External links