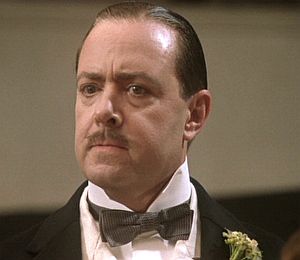 John Sessions (b. 1953) is a Scottish actor and comedian who appeared as the schoolmaster in The Adventures of Pinocchio (with characters by Jim Henson's Creature Shop) and played Peasemarsh in the 2004 Jim Henson Pictures film Five Children and It.
Sessions studied with the Royal Academy of Dramatic Art, and appeared in bit parts in the 1980s films The Sender and The Bounty, before finding his true forte as a comedian. He provided celebrity vocal impressions on the puppet series Spitting Image, and with Stephen Fry, was one of the earliest regular panelists on Whose Line Is It Anyway? Subsequent film credits included a range of classic adaptations, period films, and fantasies, including Princess Caraboo, Faeries, Gangs of New York, and three Shakespeare adaptations: Henry V (directed by Kenneth Branagh as Macmorrow), A Midsummer Night's Dream (as Philostrate), and The Merchant of Venice (as Salerio). In television, Sessions has guest starred on Agatha Christie's Poirot and Marple, Dalziel and Pascoe, and One Foot in the Grave, and played Dr. Prunesquallor in the fantasy mini-series Gormenghast. He also featured in the series Laugh...? I Nearly Paid My Licence Fee.
External links
Ad blocker interference detected!
Wikia is a free-to-use site that makes money from advertising. We have a modified experience for viewers using ad blockers

Wikia is not accessible if you've made further modifications. Remove the custom ad blocker rule(s) and the page will load as expected.