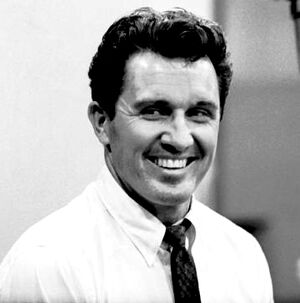 John Raitt (1917 - 2005) was an American actor and singer. He is best known for his musical theater work on Broadway, originating the role of Billy Bigelow in Carousel in 1945. His other musical works include Oklahoma! (the 1941 tour) and The Pajama Game (reprising his role in the latter for the 1957 film adaptation). For the 1962 studio record album of Showboat, he sang opposite Barbara Cook.
Raitt provided the (inner) speaking and singing vocals for Dusty the Worm in episode 3307 of Sesame Street. His song from the episode, "Worm Soliloquy," directly parodies "Soliloquy" from Carousel, which was performed by Raitt's character Billy in Act I.
External links
Ad blocker interference detected!
Wikia is a free-to-use site that makes money from advertising. We have a modified experience for viewers using ad blockers

Wikia is not accessible if you've made further modifications. Remove the custom ad blocker rule(s) and the page will load as expected.