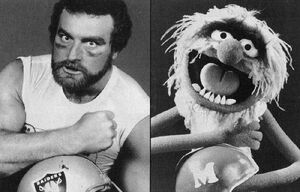 John Matuszak (1950 - 1989) was a football player who won two Super Bowls with the Oakland Raiders. After he retired from football, he became an actor, appearing in Caveman, The Ice Pirates and The Goonies.
He appeared in Muppet Magazine issue 5, paired in "The Second Great Muppet Look-Alike Contest" with Animal.
External links
Ad blocker interference detected!
Wikia is a free-to-use site that makes money from advertising. We have a modified experience for viewers using ad blockers

Wikia is not accessible if you've made further modifications. Remove the custom ad blocker rule(s) and the page will load as expected.