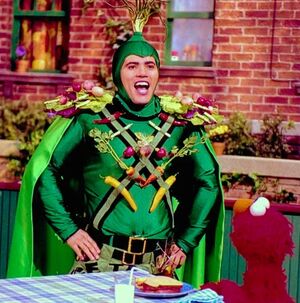 John Leguizamo (b. 1964) is an Emmy Award winning actor and comedian. He guest starred on Sesame Street Episode 4013, playing Captain Vegetable, and supllied the voice of Rat #2 in the Creature Shop-effects film Dr. Dolittle.
Beginning his career in stand-up comedy, Leguizamo's television debut came with a bit role on Miami Vice, followed by a Madonna music video and the feature film Regarding Henry (with Annette Bening).
Writing and appearing in multiple Broadway shows, Leguizamo has also appeared in the feature films Moulin Rouge!, To Wong Foo, Thanks for Everything, Julie Newmar (with Stockard Channing and Robin Williams), Romeo + Juliet, The Honeymooners, and Die Hard 2:Die Harder, as well as the television series ER.
External links
Ad blocker interference detected!
Wikia is a free-to-use site that makes money from advertising. We have a modified experience for viewers using ad blockers

Wikia is not accessible if you've made further modifications. Remove the custom ad blocker rule(s) and the page will load as expected.