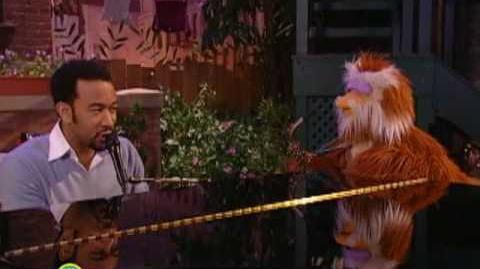 John Legend (b. 1978), born John Stephens, is an R&B singer and pianist who appeared in Season 37 and Season 48 of Sesame Street. In episode 4109, he performed "It Feels Good When You Sing a Song" with Hoots the Owl, supplying both vocals and piano accompaniment.
Legend also performed at the 2010 Annual Sesame Workshop Benefit Gala.
During his appearance on The Queen Latifah Show in 2014, he played the piano to and sang "The Rainbow Connection" with Queen Latifah, Kermit the Frog and Miss Piggy.
External links
Ad blocker interference detected!
Wikia is a free-to-use site that makes money from advertising. We have a modified experience for viewers using ad blockers

Wikia is not accessible if you've made further modifications. Remove the custom ad blocker rule(s) and the page will load as expected.