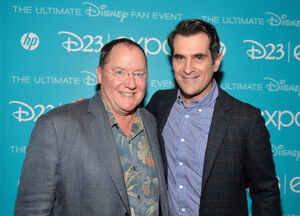 John Lasseter (b. 1957) is an animator and director, and chief creative officer at Pixar and Walt Disney Animation Studios. He is also principal creative adviser at Walt Disney Imagineering. Prior to the production of Pixar's first computer animated feature film, Toy Story, Lasseter produced and directed several shorts for Sesame Street featuring his lamp character, (and Pixar's mascot), Luxo Jr..
Though his earliest work was in cel animation (working on Mickey's Christmas Carol), Lasseter received a special achievement Academy Award for Toy Story (which he directed), and has also directed A Bug's Life, Toy Story 2, Cars, and Cars 2, as well as serving as executive producer on Pixar's other feature films. Since 2007, he has also been the executive producer of all films from Walt Disney Animation Studios (and its division, DisneyToon Studios) including the Tinker Bell movies, Tangled, and Winnie the Pooh (2011).
External links
Ad blocker interference detected!
Wikia is a free-to-use site that makes money from advertising. We have a modified experience for viewers using ad blockers

Wikia is not accessible if you've made further modifications. Remove the custom ad blocker rule(s) and the page will load as expected.