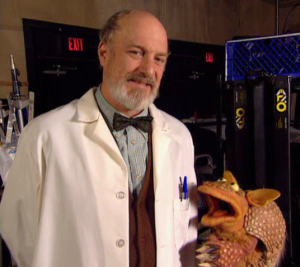 John Hostetter (1946-2016) was a character actor who played Dr. Hugo Krassman in the direct-to-video release Kermit's Swamp Years. His credits include a recurring role on Murphy Brown, as stage manager John for nine seasons, and small parts in the films The In-Laws and John Landis's Into the Night (with a cameo by Jim Henson).
A prolific voice actor, Hostetter dubbed General Madine in Return of the Jedi, played Bazooka on G.I. Joe and Ramhorn on Transformers, and has been heard in many anime productions.
External Links
Ad blocker interference detected!
Wikia is a free-to-use site that makes money from advertising. We have a modified experience for viewers using ad blockers

Wikia is not accessible if you've made further modifications. Remove the custom ad blocker rule(s) and the page will load as expected.