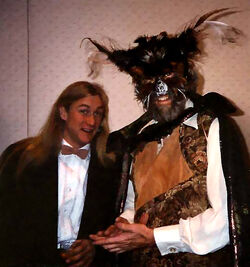 John Paul Henson (b. April 25, 1965)[1] is a performer, craftsman and co-owner of The Jim Henson Company. He is the fourth of Jim and Jane Henson's children.
In the early '90s, Henson began performing the puppetry for Sweetums - as Richard Hunt was physically unable. Richard continued performing the dialogue for Sweetums until his passing in 1992, after which Henson took over the character completely. Now, Henson has been the primary performer of Sweetums for over a decade. In 1987, Jim Henson spoke of his son's performance work as Sweetums in a Washington Post interview. He also performed the part in Muppet*Vision 3D, with dialogue looped by Hunt. In later appearances, such as Muppet Treasure Island, Henson supplied both puppetry and dialogue. In addition to television and film projects, Henson has made live appearances as Sweetums for a number of events, including: a 1992 musical tribute to Jim Henson at the Lincoln Center in Armonk, New York; during the MuppetFest weekend in 2001; and the unveiling ceremony for Kermit the Frog's star on The Hollywood Walk of Fame in 2002.
In the early 1980s, Henson, with John Kahn, built The Great Hot Air Balloon Circus to decorate the spiral staircase of the townhouse where the company made its home at the time. Although it has been moved to a different location, another of his sculptures now welcomes visitors to the current New York offices. Made of brass and other metallic, moving parts, the piece was based on one of his father's own sketches.
Credits
Sources