Ad blocker interference detected!
Wikia is a free-to-use site that makes money from advertising. We have a modified experience for viewers using ad blockers

Wikia is not accessible if you've made further modifications. Remove the custom ad blocker rule(s) and the page will load as expected.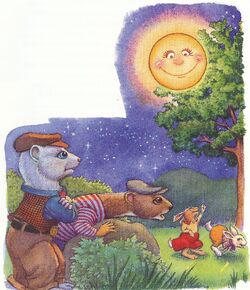 John Gurney, sometimes credited as John Steven Gurney, is an illustrator whose art adorned the "Kermit's Tales" stories included in the Jim Henson's Bedtime Stories story-by-mail subscription series, and reprinted in the Jim Henson's Muppet Stories book series. Since the stories focus on various woodland animal characters or anthropomorphic entities (the sun, trees), Gurney's illustrations are in a style distinct from the normal Muppet look, presenting more realistic woodland animals in the manner of Beatrix Potter tales and similar storybooks. Frogs and insects are a bit more Muppety. Gurney illustrated 41 stories in all, as well as related activity pages.
Gurney's work has appeared in Highlights magazine, Cricket, and on board games (such as Guess Who?) He has illustrated several book series, including The A to Z Mysteries, The Bailey School Kids, and The Calendar Mysteries. Picture book assignments include an adaptation of The Night Before Christmas (1999; reissued in 2006 as a book and audio set narrated by Peter Linz). More recently, he has written and illustrated his own books, Dinosaur Train (2002; no relation) and Fuzzy Baseball (2016).
Stories
"Bean Bunny's Moonlight Walk" by Daphne Skinner
"What Should We Play?" by Daphne Skinner
"Buster B. Finds A Home" by Michaela Muntean
"Rosie Raccoon Meets the Night" by Harry Ross
"The Thank-You Gift" by Michaela Muntean
"Woody Beaver Builds a Dam" by Michaela Muntean
"Boris Beaver" by Harry Ross
"Tod Bunny's Busy Birthday" by Daphne Skinner
"Four Friends" by Jim Lewis
"A Hug for Stuckley" by Michaela Muntean
"The Buddy System" by Ellen Weiss
"Celia Skunk, Pack Rat" by Harry Ross
"Up the Water Spout" by Barry Keating
"Lima-Bean-and-Dandelion Soup!" by Ellen Weiss
"Helping Harriet Home" by Richard Chevat"
"The Bobcat Who Loved to Swim" by Randi Hacker
"A Flying Lesson" by Arthur Rosenblatt
"Big Foot Clyde" by Kimberly Morris
"Wendell Did It" by Jim Lewis
"The Steam from the Pot" by Michaela Muntean
"Kid Stuff" by Antonia Bryan
"Colin the Chameleon" by Kimberly Morris
"The Rescue Operation" by Kimberly Morris
"The March Wind" by Michaela Muntean
"The Curse of the Gypsy Moth" by Kimberly Morris
"I'm No Chipmunk" by Richard Chevat
"Night Sounds" by Michaela Muntean
"Little Morris Bear" by Harry Ross
"The Best of Friends" by Antonia Bryan
"The Night the Moon Disappeared" by Michaela Muntean
"The Wonderful Log" by Deborah Kovacs
"The Otter Who Lived Alone" by Harry Ross
"Owlet's First Flight" by Harry Ross
"Forever Green" by Michaela Muntean
"Lucy and the Firefly" by Louise Gikow
"Dirty Little Delia" by Harry Ross
"Hide and Seek" by Daphne Skinner
"The New Bird in Town" by Debbie Kovacs
"Flutterby the Butterfly" by Toby Finneman
"Doubting Thomas" by Michael Muntean
"Wake Up, Bear!" by Richard Chevat
"Fair and Square Share" by Kimberly Morris
External links