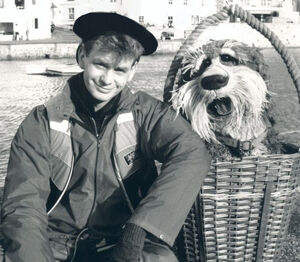 John Gordon Sinclair (b. 1962) is a Scottish-born actor who played P.K., the Principal Keeper of the Lighthouse, in the UK version of Fraggle Rock. He joined in the fourth season due to the death of Fulton MacKay.
Sinclair starred in the 1981 film Gregory's Girl and is well known in the UK for his appearances in a popular series of TV adverts for Tesco's supermarkets, as Gavin, who with wife Kate (Jane Horrocks), serves as foil to the relentless Dotty (Prunella Scales).
External links
Ad blocker interference detected!
Wikia is a free-to-use site that makes money from advertising. We have a modified experience for viewers using ad blockers

Wikia is not accessible if you've made further modifications. Remove the custom ad blocker rule(s) and the page will load as expected.