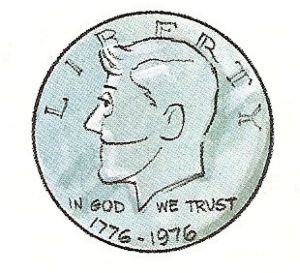 John Fitzgerald Kennedy (1917-1963), also referred to as John F. Kennedy or JFK, was the 35th President of the United States. He served from 1961 until his assassination in 1963. The son of a prominent Massachusetts family, Kennedy's presidency was marked by such events as the Bay of Pigs invasion, the Cuban Missile Crisis, the building of the Berlin Wall, the Space Race, early events of the Vietnam War, and the American Civil Rights Movement.
He was the father of Caroline Kennedy, and Ethel Kennedy was married to his brother Robert.
References
Kennedy's image appears in Jim Henson's short The Idea Man, which debuted on The Mike Douglas Show in 1966, three years after the assassination. Kennedy is one of several images seen during the montage, drifting through the mind of the Floating Face. Unlike the other objects, which move on, Kennedy dissolves, an apparent reference to the real Kennedy's fate.