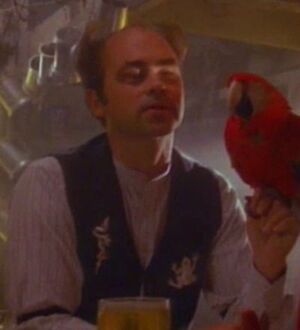 John Dunsworth (1946-2017) was a Canadian actor who played Sam the bartender in Lighthouse Island.
Dunsworth played the drunken Jim Lahey on the Canadian comedy series Trailer Park Boys (with Shelley Thompson) and was a regular on the Syfy series Haven (as Dave Teagues). In addition to Trailer Park Boys: The Movie, films include The Shipping News (with Julianne Moore and Pete Postlethwaite) and Take This Waltz (with Seth Rogen and Sarah Silverman).
Dunsworth appeared frequently on scifi series Lexx, in on-camera bits and voice-overs, and in an assortment of TV movies (including the first of the Tom Selleck Jesse Stone movie series). On CBC radio, he was heard on the horror anthology Nightfall (in the 1982 episode "The Screaming Skull") and recurred on the series Backbencher (2010-2011) as Earl Higgins.
External links
Ad blocker interference detected!
Wikia is a free-to-use site that makes money from advertising. We have a modified experience for viewers using ad blockers

Wikia is not accessible if you've made further modifications. Remove the custom ad blocker rule(s) and the page will load as expected.