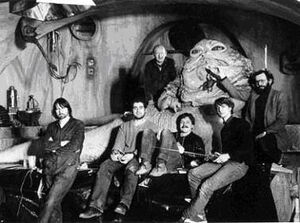 John Coppinger (b. 1947) is a sculptor who worked on several projects for Jim Henson's Creature Shop, beginning with The Dark Crystal, where he was credited with designing and building various environmental creatures, including the walking trees. He worked on several other projects through 2000, on a freelance basis.
Coppinger's other film credits include work on Return of the Jedi (on Jabba the Hutt), Little Buddha, and various Harry Potter movies, as well as extensive work for museum exhibits.
Henson/Creature Shop credits
External links
Ad blocker interference detected!
Wikia is a free-to-use site that makes money from advertising. We have a modified experience for viewers using ad blockers

Wikia is not accessible if you've made further modifications. Remove the custom ad blocker rule(s) and the page will load as expected.